Whilst at the wonderfully named second Sky River Rock Festival in August 1969 Terry had met and got to know David Lindley a talented multi instrumentalist, David had an established reputation for roots country music blended with a wide variety of other musical genres. His skills were backed up by an impressive collection of guitars and other stringed instruments. Previously David had been the leading light and founder of influential group Kaleidoscope who received this accolade from Jimmy Page "They're my favorite band of all time - my ideal band." when as a member of the Yardbirds he saw them playing in San Francisco. David was also connected to Terry via mutual friend/manager Chesley Milliken (sadly no longer with us). When Terry was back in England David wrote to him and suggested getting together to play. Another door opening! Terry got straight back to him and David wasted no time in collecting his array of guitars, his wife and young daughter before flying over to England. Terry quipping that the freight charges for David's instrument collection would sink the project before it got started. Oh and Lee came too, Lee Miles bass player to the Ikettes, amongst others. Terry, Lee and David spread themselves around in the small, quintessentially, English villages ringing Huntingdon, Cambridgeshire. David stayed in Brampton, having welded some green wellies to his feet which legend has it remained in place for the whole of his stay in England. Becoming fond of english cider he found himself awake many a night and as any self respecting american away from home would, passed the time polishing his Samurai sword.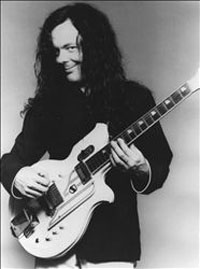 Lee holed up in an apartment in a sprawling mansion called the Holme in GodManchester (there really is such a place) where apart from practising the bands tunes he amused himself by playing his bass along to the local church bells. Terry very much on home territory was living in an unbelievably named cottage, House of Dreams in Holywell. You couldn't make all that up, could you? The river Ouse (pronounced ooze) wandered lazily along the edge of the village and was to be in part the inspiration for his next album. In between sampling the delights of the English countryside the band now including drummer Alan White who'd joined after a brief tenure by ex Greaseband Bruce Rowland, rehearsed and began playing in public. The first notable performance was at the Isle of Wight Festival on the 27th of August 1970 where they played to a crowd several hundred thousand strong.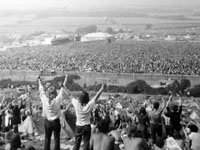 This was the 3rd IOW festival and had the largest recorded audience of any UK festival. It was beset by problems with clashes from people demanding free entry, an early attempt at securely fencing an open site, a real mixture of 'Love Peace and Understanding' with 'hey we need to make a profit and pay people's wages'. The flavour of the event was accurately captured on a film documentary of the festival. There was even an act of parliament passed just to prevent festivals on the island ('Isle of Wight Act' 1970 ). I'll check Hansard (UK parliamentary record) and see if Terry is mentioned ! Despite the problems there was an impressive lineup to enjoy, The Doors, Jimi Hendrix, The Who, Joni Mitchell, Miles Davies, Free, Leonard Cohen, Joan Baez, The Moody Blues and ELP, Terry was in good company. Alan White, Terry's drummer, had been booked by John Lennon for a studio session and King Crimson drummer Michael Giles stood in. Their set was a heady mixture of blues power rock with inventive country elements slipped in by David, sometimes much to Terry's surprise. As part of the set they played a Kaleidoscope number Brother Mary which had been on the Zabriskie Point soundtrack, though it was introduced and listed at the IOW as C'mon Mary.